Almost every day I hear from a client or read an article highlighting the important role that diversity and inclusion are now playing in their organizations. Thinking back, I cannot remember a time when it seemed more top-of-mind to learn about ways for people from different backgrounds to understand each other and work together than it was in 2020. Certainly, it's obvious as to why!
Organizations today are multicultural, diverse, and often global. There's ample evidence to show that successful organizations manage and harness that global diversity in ways that propel the company to be industry leaders. They create engaged workforces that are fundamental to the company's success.
While we're all aware that while 2020 was a tumultuous year, it was also a year that highlighted how critical it is for organizations to create inclusive cultures where all people feel they belong. Even organizations where management thought they had created an inclusive environment discovered—to their chagrin—that their employees didn't quite agree. Management realized they needed to do more.
The 5 Fundamentals of Fostering Diversity and Inclusion in the Workplace
The most important thing is to recognize that creating an inclusive culture of belonging is a complex challenge, and it doesn't happen overnight.
Recognize that making reactive statements supporting diversity is not enough. Employees require—and the company is obliged to create—comprehensive, continual outreach programs to create equity. Those that do will see the positive impact on their organizations in productivity, recruitment and engagement.
New inclusion programs that focus on behavioral change must be introduced. They should focus specifically on implicit bias awareness, overcoming racial and ethnic bias, building a culture of inclusion, and overtly creating learning and growth opportunities for everyone throughout the organization.
Make inclusive behaviors learnable—provide resources and organizational support to move the process from feelings to action.
Introduce new skills, such as allyship, curiosity conversations, and the ability to have constructive, although sometimes difficult, conversations.
A Global Imperative for Change: The Need for Diversity and Inclusion Training
During 2020, companies realized that if they were going to attract and retain top talent, they needed to have defined, proactive programs that addressed Equity, Inclusion and Diversity. There's a new, social consciousness that demands changing the status quo with regard to equity towards race, ethnicity, gender, etc. The trend isn't limited to any country, but seems to be a shared global imperative.
RW3 CultureWizard, like some other leading learning organizations, has responded to this growing need by developing a comprehensive learning curriculum dedicated to creating an inclusive environment. We've created a unique assessment that highlights an individual's current state of awareness and ability with regard to diversity, inclusion as well as the ability and willingness to grow.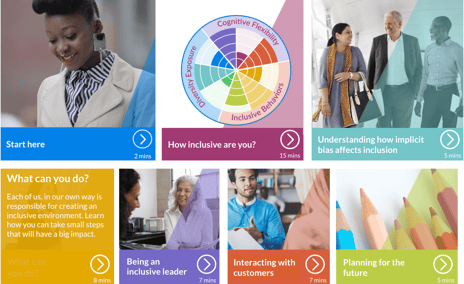 This personal assessment not only defines where the individual falls on the inclusion spectrum, it is also a developmental tool that offers personalized advice so that enable individuals to grow and develop in the areas they need improvement.
In addition to the course on fundamentals, there are also courses on Implicit Bias, Inclusive Leadership, Creating a Culture of Inclusion, and a global view of Racial and Ethnic Bias. These integrate the many types of diversity, from the way people think, to the groups they identify with, to the different values and behaviors people find in a diversity of cultures.
Wherever you are in your company's journey towards a more inclusive organizational culture, it's important not to be complacent. There are urgent, new demands that need to be addressed and more effective ways to reach individuals and help them embrace the diversity in their organizations. It's imperative to stayed attuned to those demands and develop opportunities to meet them.