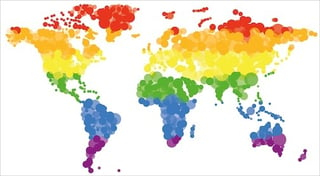 Even in ideal circumstances – and under ideal conditions – deploying talent from one part of the world to another is complex. Expats and their employers face opportunities and challenges shaped not only by the demands of the business but also by economics, politics, and culture. And, as in business itself, those demands are constantly changing in response to shifting pressures.
When it comes to international assignments for lesbian, gay, bisexual and transgender (LGBT) employees, however, that complexity is magnified tenfold. Or more.
That may be surprising to some business leaders working in countries in which LGBT people are generally accepted by the culture and/or enjoy legal rights and protections. But what's true in Canada or Sweden is hardly universal. Consider:
At least five countries and as many as 14 (depending on whether you consider sharia courts) maintain the death penalty for homosexuality.
Same-sex relationships are illegal in more than 70 countries. Those convicted face a variety of penalties, including imprisonment for life. That figure is slightly misleading because there are other countries – including Egypt – in which homosexuality is not technically illegal but in which LGBT people are routinely pursued and detained on morality grounds.
Laws around the world directly limit LGBT people's rights in issues ranging from donating blood and using restrooms to adopting children or working without fear of being fired.
LGBT people still face discrimination in every country.
Clearly, no organization wants to send people on international assignments if doing so threatens their safety or freedom. But simply deciding to exclude LGBT people from expatriate assignments doesn't make sense, either. Just for starters, doing so limits the talent available to pursue vital business needs. It also violates the published values of many organizations and certainly would limit the career paths of those denied global expertise. So, how then should organizations proceed? By relying on information, transparency, flexibility, and embracing diversity. Let's consider each of these elements.
Information. Any company that makes international assignments should assume that it has eligible LGBT employees in its population. Accordingly, the proactive approach is to ensure that everyone involved in expat assignments:
Understands the factors that can influence the experiences of LGBT employees working outside their home country
Keeps current with laws affecting LGBT people in the countries in which it has expats
Conducts risk assignments and develop risk management plans that explicitly include LGBT issues
That information should then be shared with employees.
Transparency. The pros, cons, and risks of an international assignment should be clearly laid out to any potential transferee. Qualified employees should then be allowed to decide for themselves whether to accept such an assignment.
Flexibility. Although it's wrong to deny LGBT people the opportunity of an expat assignment, it's also wrong to deny that LGBT people face challenges unique to them. Varying marriage and immigration laws, for example, may prevent a same-sex spouse from being allowed to accompany an employee; in some cases, the legal status of a same-sex couple's children may be compromised. Therefore, LGBT employees should be guaranteed that they are not committing career suicide if they turn down an assignment hey believe puts themselves or their family at risk. In addition, companies should be flexible in their policies. An employee who couldn't take a same-sex spouse with him or her might still accept an assignment if the company offered a more generous home-visit allowance, for example.
Embracing diversity. None of these strategies will be helpful if employees are afraid, to be honest about who they are. The culture needs to include openness and inclusion so that if an assignment is offered everyone involved can have a frank discussion.
There is a myriad of ways in which these approaches might actually play out. I would love to hear how your organization – and your LGBT staff – are handling your expat assignments. None of us has all the answers, but together we can make things better for our employees and for businesses.
Want to learn more about how to work effectively with different cultures?