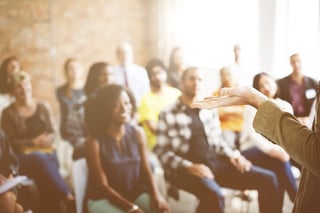 Giving presentations is fraught with challenges, even in your home country. The issues expand exponentially when presenting in other countries. I remember leaving on a trip with multiple copies of the same presentation, each tailored to the specific country.
Use the following to make sure your presentation is well-suited to your audience.
Before the Presentation
Read the Presentation section in the Communication Section of the Country Profile for the country where you will be giving a presentation.
Develop your handouts thinking about your audience:

Should they be translated into another language?

If so, make sure the tone is appropriate for the audience. A good translator should be able to help with this.

When should the handouts be given to the audience? This can vary from a few days before the presentation to at the end of the presentation.

Is technical information distributed at the same time? In many countries, technical handouts are given a few days in advance so the audience has a chance to review.

Confirm if there are any images or colors that should be avoided.
Have someone else review for typos.

Review your presentation slides or flipcharts.

Does the audience prefer visuals or words?
Should the slides be an outline or the entire presentation?
Is it important to intersperse charts and graphs with the written material?

Confirm which types of graphics are optimal.

Will the audience expect supporting data in the slides or will they expect these in detailed handouts given at the end of the presentation?
Are fancy gimmicks expected or scorned? In some cultures, the audience may think that fancy gimmicks are used to hide a lack of information.

Think about your audience:

Does the audience expect to be greeted individually when they arrive?
Should you have coffee and snacks available?

Is this a good time to mingle with the audience?

Will they arrive on time?

If not, should the presentation start on time?
How should you address stragglers? Are you expected to wait until the person has greeted others and is seated or should you simply keep speaking?

What is the optimal time for a presentation?

Will the audience expect a long presentation?
Will the audience expect a break?

Will you be speaking to SMEs or will the audience be diverse? Knowing the audience demographics can help tailor the presentation.
May you ask the audience to turn off their mobiles?

If you do, will they comply?

Will the audience interrupt if they have questions?

Will they do this even if you say there will be time for Q&A at the end?
Can questions extend into tangential discussions?

Will the audience carry on side conversations while you are speaking?

Have a plan for how you will deal with this if it is a strong possibility.

Will they be comfortable with interactive exercises? These can fall very flat in some cultures. It is vital to know this before you find yourself staring at an audience who look like deer caught in the headlights.

Will you need an interpreter?

Work with the interpreter in advance so s/he is comfortable with your material, accent and speech pattern.
Have the interpreter teach you basic greetings in the local language.
During the Presentation
Presenter Behavior

Speak slowly, summarize key points often, and pause frequently.
Can you open with a joke?
Strive for a cordial yet formal delivery style.
Status is often determined by non-verbal behavior; strive to appear self-confident and poised.

Do not toy with your papers; it may give the impression that you are uncomfortable with your information.

Opening the Presentation

Is there anyone you should thank publicly?
Are you expected to explain your background?
Will the audience expect a big-picture overview or greater detail?
If the presentation is long, will the audience expect a timetable for when each topic will be discussed?

Body of the Presentation

Does what is being presented impact the type of presentation?

For example, do new products require more in-depth material?

When presenting a new concept, how much background and detail is necessary?

Are testimonials and success stories important?

If so, should they be from the same country or region?

Is it important to repeat or rephrase important points?
How detailed should implementation plans be?

Ending the Presentation

Should you give a summary?
Should you end with a thought-provoking question?
Thank the audience.
Leave time for a Q&A.

Should you expect penetrating questions or no questions?

Is it polite to shake hands with each attendee as they depart?
Want to learn more about how to work effectively with different cultures?