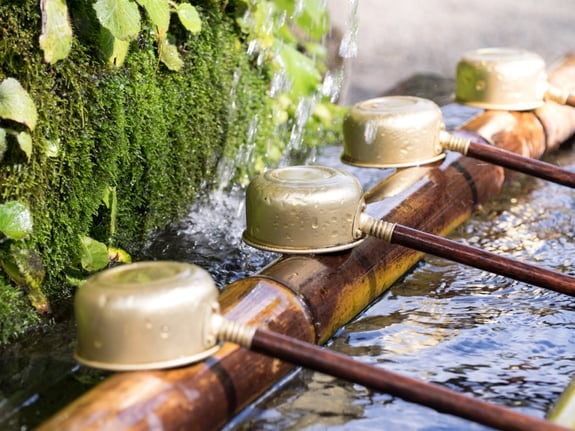 I love Japan. I was an expat in Nagoya for two years and came to admire so many aspects of Japanese culture. So, when Damien Pryor, CultureWizard's Training and Engagement Manager recently returned from a short-term assignment in Tokyo, it was a great opportunity for us to discuss the beauty and quirks of the culture.
Our question: Is Japan's obsession with cleanliness a matter of practicality or a visible sign of deeply held cultural values?
Everyone knows that when you enter a Japanese home or restaurant you take off your outdoor shoes and wear indoor slippers. But, when you look deeper, you can see so many instances where there are clear distinctions between "inside" cleanliness and the outside world; between the grime and germs of the outdoors and the hygiene and spotlessness of the interior.
When you come home, you gargle. You wash your hands immediately. You change your clothes right away. In fact, among the biggest sellers in Japan's department stores and Uniqlo are "room wear"— sweats or capri-like lounging garments and soft fabric wear — that you change into when you get home so you don't bring the outside dirt, inside.
Bathing is another example. It's not only traditional, communal baths where custom (and hygiene) dictate that you wash off before entering the hot pool of water to soak. Whether you're in your home or at an onsen, you scrub clean (and scrub some more) and shower before you dare enter the shared bath.
But, this preoccupation with cleanliness isn't superficial. It goes to the very core of Japanese beliefs. The Shinto religion is a beautiful expression of harmony and celebration. One of its core principles (as in other religions as well), is purification. Being immaculate is synonymous with purity, with reverence and beauty.
So, let me ask you: What other signs do you see? What other cultures have similar traditions, with possibly different origins?
Interested in learning more about Japan? Click below for a recording of our Working Effectively with Japan webinar.