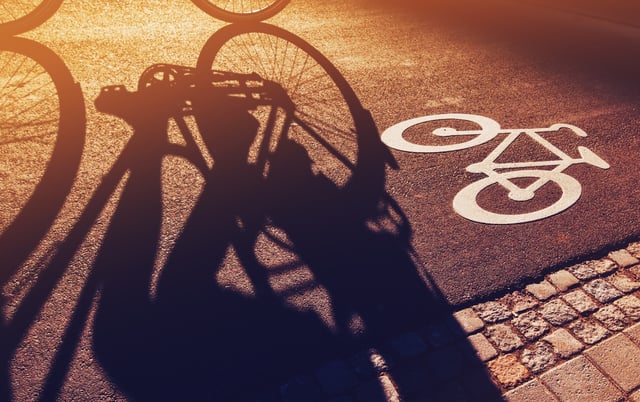 You might wonder how people could understand cultural differences from a bicycle? Well, I did learn something while riding through Italy on a bicycle...visiting the historic towns and villages of Tuscany—picturesque, storybook places like Siena, Montalcino, Radda, and San Quiricco d'Orcia. Everywhere we go, I'm struck by how tradition is cherished, of course in the architecture and food, but equally strong and less visibly apparent in family values and historic commemorations.
Of course, in many piazzas, you'll find a statue of a local hero and a centuries-old church dedicated to a patron saint. But, more than that, people in these towns cater to tourists in a warm and welcoming way that's an apparent outgrowth of the close-knit community values that bind people to each other. Visiting these towns, you strongly feel the connection of people to the land and each other more than anything else. There seems to be a palpable relationship with others and to their shared history, all of which reinforce their values of generosity and relationship.
This afternoon I was invited to a family home of one of my cycling guides for lunch and was so impressed by how this highly educated, high-tech, the cosmopolitan individual connects completely with the people from his tiny town. His home dates back hundreds of years, and he proudly points out sections that were built at different times from medieval to the 1700s. Just yards from his home (which was a grain mill in the 15th century) is an Etruscan burial mound dating back to 700 BC where we saw actual structures built by the Etruscans.
In spite of all the high-tech accouterments in his home, it houses three-generations of his family who all feel a strong connection to the land where they grow many of their own vegetables. Amongst our guide's other occupations is his private olive grove where he grows and manufactures one of the highest quality olive oils in the world.
Inevitably, young people raised in this environment are influenced by how their ancestors cherish traditions and they, in turn, accept that. Those traditions and cultural values are passed on and behaviors become completely second nature as the proper way to behave. Of course, this is how cultural values are passed on.
Every culture/country has an overriding value, something that most of the population instinctively say, "That's what's most important."
It seems that every Italian I meet values family –almost above all else—and, by extension, community. These are those overriding values I'm referring to. That value is both evident and consistent with a high relationship culture.
By contrast (and this is not a quality judgment ) that is dramatically different from what I, as an American, would identify as my culture's primary value—freedom and independence—which, in turn is consistent with a direct, transactional culture. Perhaps that's because we're a much newer and more mobile a society.
Somehow understanding and appreciating cultural differences gives us each a richer experience of the life we share on this planet.
Want to learn more about how to work effectively with different cultures?