Finally! Common sense has always told us practitioners that having a Global Mindset is invaluable. Learning to interact effectively with people from other cultures—people who have other workstyles--has been thought to be a smart business investment.
Now, there is empirical evidence that validates these assumptions.
The Global Mindset Index (GMI) demonstrates that companies which actively support their employees gaining a Global Mindset are far more likely to achieve their business objectives than those that don't. With almost 1,400 participants representing global enterprises from every region of the world, the respondents indicated that their work involved significant interaction with others in the global arena.
More than 82% rated the international component of their companies' business as "extremely significant"
Nearly half (45%) spend more than half their time on international business activity
Almost one-quarter (24%) spend more than 75% of their work time on global endeavors
Although 91% of all respondents said they believe a Global Mindset is important to their success, the data shows that only organizations that demonstrate key behavioral and cultural characteristics are business "Overachievers."
Overachieving Companies are those that:
Recognize and adapt to cultural differences
Are supportive of and promote employees with a Global Mindset
Place value on employees with a Global Mindset
The data show that companies with a Global Mindset perform better, are more profitable and are more likely to achieve their business objectives. The results illustrate, in many different ways, how a Global Mindset among employees benefits organizations.
Here are the intercultural attributes that determine the difference between over- and under-achieving organizations.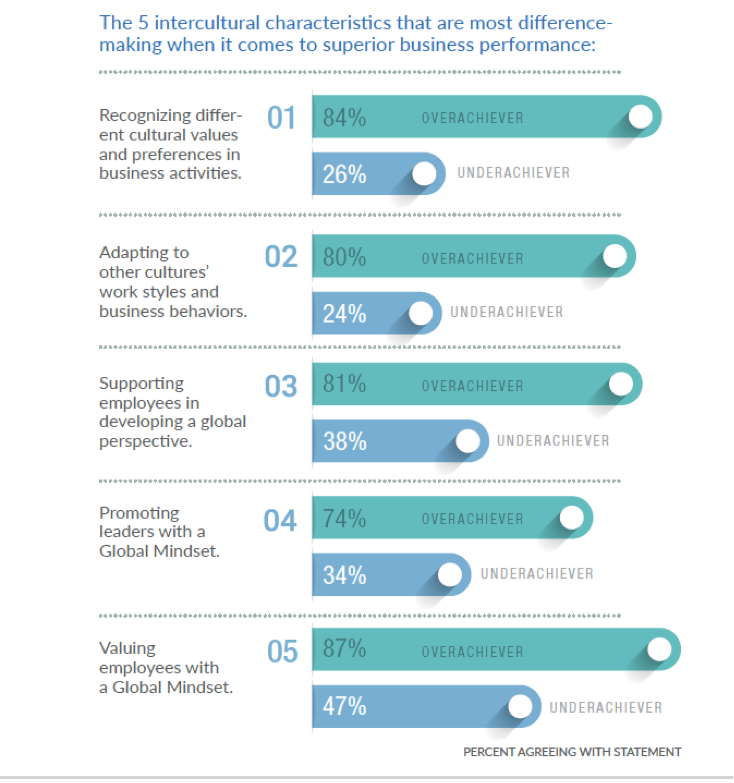 Furthermore, companies that consistently act in a way that shows they acknowledge and support intercultural competencies derive tangible business benefits in many ways.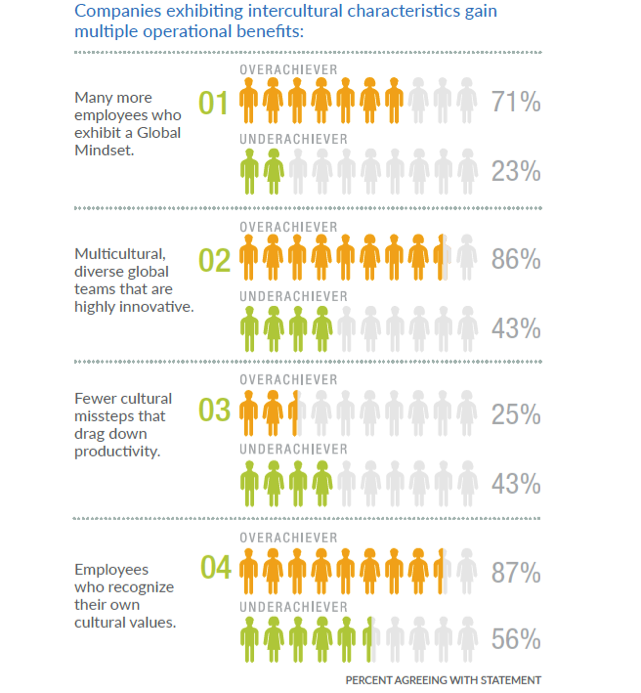 Five Take-Away Tips from the GMI Survey Report
Recognition is the first step: High performing organizations are far more likely to recognize cultural differences as they impact business. This is crucial to conducting business across cultures since miscommunication is a very real threat and the need to adapt, while maintaining your objectives, is imperative.
Identify and Adapt to other cultures' business behaviors: This is a defining characteristic of high-performing multinational companies. People who are effective are able to adapt to the demands of other cultural ways of conducting business. This is particularly important since almost half of the respondents to the survey said they spend over 50% of the time on global business activities. The ability to recognize and adapt to differences is emblematic of a Global Mindset.
Ensure that employees feel valued for their Global Mindset: Companies that promote and actively support intercultural skill building and the development of a Global Mindset nurture employees who can bring great benefit to the organization.
Encourage more people with a Global Mindset: The data shows a correlation between organizations with many people who demonstrate a Global Mindset and benefits to the company.
Foster activities that help employees recognize their own cultural perspectives: High performing global businesses are twice as likely to have multicultural teams that are highly motivated and have fewer cultural missteps that damage productivity.
In conclusion, it's clear from the data that a Global Mindset helps to drive competitive dvantage. While many of us have realized for a long time that a strong corporate culture can help overcome national cultural differences and be a strong unifying tool for a global workforce, the GMI even goes further. It points out that the corporate culture also needs to embrace a Global Mindset, rewarding and recognizing employees who demonstrate intercultural competencies.
The results clearly demonstrate that when a company has a Global Mindset, it also gets significant competitive advantages. The organizations accomplish more of their most important business priorities and achieve a long-term competitive advantage.
For a copy of the Global Mindset Index study (by RW3 CultureWizard and Seymour Insights), click here: Global Mindset Index. We'd be very interested in your personal Global Mindset experiences. Next blog will share some of the missteps as well as some of the experiences of savvy companies and their employees Global Mindsets.
Want to learn more about how to work effectively with different cultures?